Reviews
Raw Deal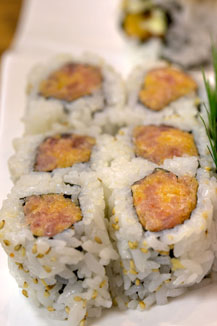 Waiter, there's fruit in my sushi. And sweet potatoes! There's more to Super Fusion than fish, and if a dragon maki of fried sweet potato, eel, and avocado or a roll of papaya, cream cheese, and smoked salmon sounds great to you, head here immediately.
Purists need not steer clear, however. The fish is always good and often sparklingly fresh, and you'll find all your traditional favorites, plus some decadence in the form of toro and foie gras. If you order a lot of rolls, it can add up; at $16-$18, the white belt, brown belt, and black belt maki-and-nigiri combinations are full meals for not much more than the price of one of the fanciest rolls.
The restaurant is tiny, with a few seats at the bar, a couple of tables, and no-frills decor. What matters are the chefs behind the bar, who have real skill. Owner Sam Huang, a graduate of Fugakyu, knows his way around flavors and unexpected combinations. He opened another tiny branch, Super Fusion Cuisine II, in Watertown this summer.