Reviews
Super Fusion: Satisfy Your Sushi Craving Without Going Broke
Despite the hokey name, "Super Fusion" is one of the Boston area's most popular sushi spots for value-priced, remarkably fresh sushi and tweaked Asian specialties. This tiny storefront in Brookline has only 4 tables and another 4 seats at the sushi bar, so it is not the place for intimate dining, but Super Fusion's legions of regulars don't seem to mind the no-frills surrounds. (Note: Super Fusion's Watertown location is much more spacious and very appropriate for evening dining with a bigger sushi bar, and many more tables).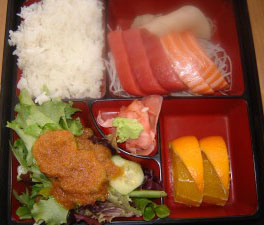 You will be given a laminated menu and a dry-erase marker to make your choices. There are dozens of standard nigiri and maki selections - and most orders range from just $5.00 - $6.00. Connoisseurs may want to choose the sashimi deluxe ($25.00) features the chef's choice of tender fish, cut long and thick. But Super Fusion's most interesting offerings are its many types of "House Special Maki". The sake papaya maki ($10.50) and a spicy shrimp tempura maki ($11.00) will most assuredly convince sushi-newbies.
As for "fusion" there are several good non-sushi apps like wok-fried calamari and fried crab wontons. There's a better than average salad selection here too- the lobster and mango salad and a grilled chicken green salad will appeal to "always on a diet"- types. The hot entree choices include tempura, teriyaki and a few grilled items.
Inexpensive lunch bento boxes which include an selection of either sushi or sashimi are served with miso soup, rice, salad and fruit and
range from $9.00 - $13.00 and are hugely popular.
Super Fusion I, 690A Washington St. Brookline, 617-277-8221
Super Fusion II 54 Mt. Auburn St., Watertown, 617-926-4164