Reviews
A flash of the unexpected
Walk into Super Fusion Cuisine II, peek at the menu, and you'll have flashbacks to a dozen other Japanese restaurants where you've unwrapped your chopsticks recently. All the regulars are here: the maki combo, the sushi deluxe, the seaweed salad, even the tragically ubiquitous Philadelphia maki, a mash of cream cheese and smoked salmon.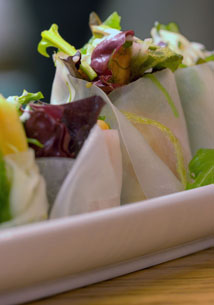 But then consider the sea rainbow papaya ($9), an unexpected treat unless you're already acquainted with the original Super Fusion Cuisine in Brookline. This appetizer is theatrical, a thick disk of papaya sheathed in crispy tempura, topped with a lemony mix of smoked salmon, tiny scallops and snow crab, and a shrimp arching skyward. It's also very good.
This is the fusion in Super Fusion Cuisine II, little surprises lurking in the eel maki and the sashimi that will make you remember this place among the crush of blond-wood sushi bars. Not that the sushi is forgettable. If you can judge a sushi chef by his salmon nigiri ($5), Super Fusion gets it right. The fish tastes fresh and clean and it's budget-friendly: One of the restaurant's quirks is the oversize nigiri, with hand-length pieces of fish draped across mounds of rice.
Spider maki ($7) is also dramatic to behold, though clumsy to eat. Soft shell crab has been fried in tempura and its legs kick up on the end pieces. The crab is balanced with cucumber and avocado. The crisp sweet potato in the Idaho makimono (above, $5.25) could make these an addictive snack.
Usually, though, the raw fish sushi at Super Fusion shines more brightly than the cooked versions. The unaavo maki ($5.25), eel with avocado, is bland. In the house maki ($11), grilled scallops and salmon are obscured by heaps of tempura crumbs.
We didn't stray far from maki and nigiri, but a handful of dishes are designed to appeal to those cool on sushi, from coconut chicken chop ($15) to baked crunchy tuna in a lemon sauce ($12). Though the restaurant serves wine, beer, and sake, nonalcoholic drinks are limited to tea and soda.
Super Fusion Cuisine II, which opened in June, is still new enough that people tend to walk in looking around as if they're not sure if they're in the right place. It's a tiny space of 38 seats, including eight at the sushi bar, squeezed between a hair salon and a smoke shop, and it's still only partly full at weeknight dinners and lunches.
No matter. We sat there the night of the season's first snowfall, toasty beside a heat vent, and waited to be surprised.